FlawTech Multi Method NDT Kit (MMNDT-K1)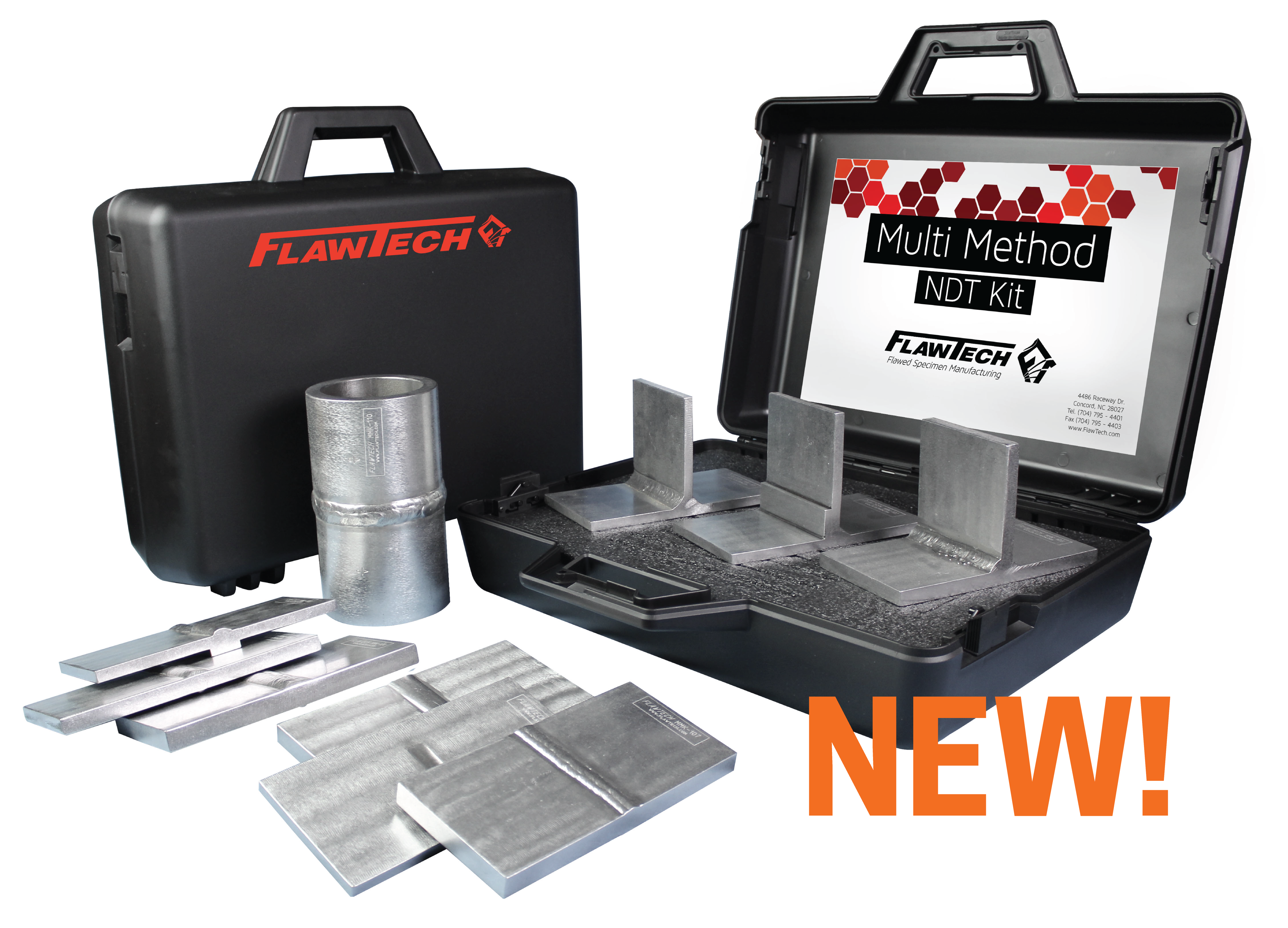 Description
The Ultimate Multi Method NDT Training and Testing Flawed Specimen Kit:
The Kit assist in the training and testing of at least 6 different NDT methods; UT, RT, MT, PT, VT & ET
Kit contains 30 flaws which cover a wide range of pre-service and in-service flaws types.
Great for comparing indication responses of the different NDT methods.
Kit Specifications:
Set of 10 Specimens
Specimen Alloy Mild Carbon Steel
Custom Alloys Available
Each Specimen will contain 3 flaws
Total of 30 flaws in the Kit.
Each specimen contains flaws that are designed to be detectable using multiple NDT methods.
Flaws are detectable by a variety of NDT methods; VT, MT, PT, UT (Conventional & PAUT), RT, ET.
Please note that not all flaws are detectable with every method.
Specimen Geometries Include:
(1) Tee, 0.375" T x 4" X 8" x 4" w/ Double Bevel Weld
(1) Tee, 0.375" T x 4" x 8" x 4" w/ Single Bevel Weld w/ Backing Bar
(1) Tee, 0.5" T x 4" x 8" x 4" w/ Double Fillet Weld
(2) Plates, 0.625" T x 4" x 8" w/ Single V Weld Bevel
(1) Plate, 0.625" T x 4" x 8" w/ Double V Weld Bevel
(1) Plate, 0.375" T x 4" x 8" w/ Single V Weld Bevel
(1) Plate, 0.375" T x 4" x 8" w/ Single V Weld Bevel w/ Backing Bar
(1) Plate, 0.5" T x 4" x 8" w/ Single V Weld Bevel
(1) Pipe, 4" Sch160 (0.5" wall) x 8" w/ Single V Weld Bevel
Kit Documentation Includes:
Certificate of Conformance
As Built CAD Drawings
UT Inspection Reports
RT, Digital & Film Radiograph Film and Technician Sheet
Measuring & Test Equipment Certificates
Test Sheets (used during technician training and testing)
Kit Includes 2 Carrying Case(s)
Earn
0
reward points with this purchase
Add This Product To Your Favourites