Johnson & Allen Dye Penetration Inspection (DPI) Kit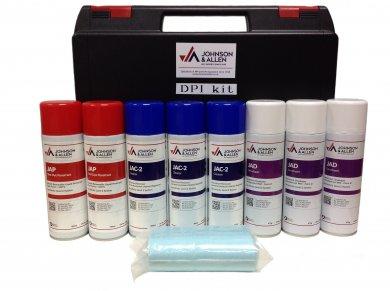 Description
DYE PENETRANT INSPECTION CONSUMABLES KIT
---
Portable Liquid Penetrant Inspection Kit
DPI Kits include all the necessary NDT consumables needed to perform reliable liquid penetrant testing. Each kit is contained within a heavy duty plastic carry case and ship quickly upon payment.
---
Ideal for leak testing and contract work
The Johnson & Allen DPI Consumables Kit is ideal for contract work, teaching environments and for leak testing pipes, tanks and pressure vessels, particularly after welding. Liquid penetrant is frequently the most economical way to detect leaks with minimal training required.
Liquid penetrant leak testing is performed by applying JAP red dye penetrant to the component on one side of the enclosing wall or surface with JAD penetrant developer being applied to the opposite surface. The penetrant is then allow a dwell time to seep through any cracks which will present as a red indication on the developer side if present, indicating a leak.
---
Kit Includes
2 x JAP Aerosols - Red dye penetrant
3 x JAD Aerosol - Developer
3 x JAC-2 Aerosol - Cleaner
1 x Pack of 10 lint-free fabric cleaning cloths
1 x Heavy duty plastic case
Earn
0
reward points with this purchase
Add This Product To Your Favourites