UVe-Lux Evolution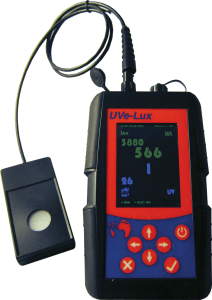 Description
A Digital Radiometer/Photometer which features an advanced microprocessor controlled readout unit with a dual-wavelength sensor to measure both Ultraviolet and Visible White Light.
UVe Lux is a compact, lightweight and robust meter specifically designed for the NDT environment.
Dual Sensor
Single sensor measures UV and White Light simultaneously-no repositioning required .
The spectral response of the white light sensor conforms to the CIE (λ) curve.
 The sensor is only sensitive to UV-A light with a peak response at 365nm.
Easy to Operate
Menu-driven set up
Auto-ranging on both UV and Visible scales
Automatic zeroing, integration and signal hold
Key Features
Provides readouts for UV-A and White Light
Log up to 1000 results and export to Excel via USB PC connectivity
Overall accuracy greater than ±5%
Complies with BS EN ISO 3059 and BS667 specifications
User defined power save with automatic shut off
Rugged meter housing with dust/splash proof case protected to IP65
Sealed sensor housing and USB connection with water-resistant adaptor
Compact, Lightweight and battery-operated for convenient use in the factory, field or other location.
Rechargeable battery via Mains charger or USB with battery life > 20hrs
Supplied with readout unit, dual wavelength sensor, USB cable, charger and carrying case.
Product Data Sheet

Earn
0
reward points with this purchase
Add This Product To Your Favourites