ULTRASONIC COUPLANT UCA7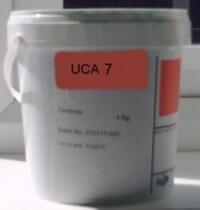 Description
Ultrasonic Couplant UCA7 is a powder based product, consisting of a blend of specially selected powder compounds. It is specifically designed as a highly portable and economical alternative to standard water-based couplants.
UCA7 on dilution forms a thixotropic gel mixture which stays in position when applied and does not drip or run from the part under test. The excellent wetting properties ensure free and even movement of ultrasonic probes over both rough and smooth surfaces with immediate and excellent acoustic transmission.
Due to the presence of special organic corrosion inhibitors, the product will not corrode most metals. The product is low in sulphur and halogens and essentially ash free on ignition (see Typical Properties below).
UCA7 is water-based. On dilution, it contains no powerful solvents and is therefore without effect on painted surfaces, plastics, synthetic or natural rubbers.
Ultrasonic Couplant UCA7 contains a small amount of fluorescent red pigment to facilitate complete removal after testing
Earn
0
reward points with this purchase
Add This Product To Your Favourites