Liquid Penetrant NDT Inspection Line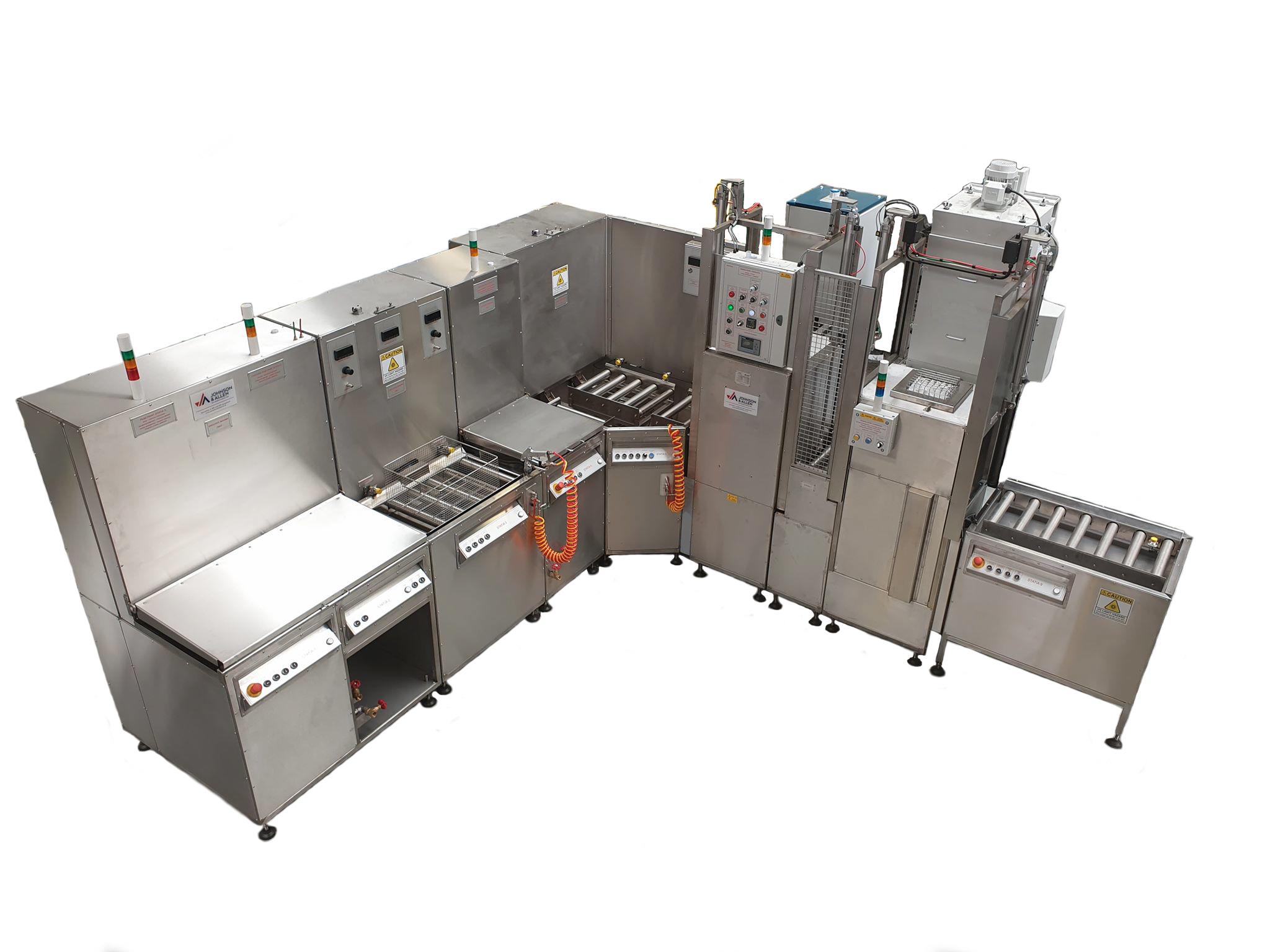 Description
Bespoke Dye Penetrant Inspection (DPI) Equipment
Johnson & Allen is an experienced manufacturer of NDT systems and have designed and manufactured Penetrant Inspection Lines for over three decades. In that time have supplied bespoke systems to market sectors including aerospace, automotive, rail, oil and gas, military and general engineering.
Johnson & Allen consider all builds regardless of complexity. We design and manufacturer all Penetrant Inspection Lines in-house and have a liquid penetrant solution for any budget.
Johnson & Allen Penetrant Inspection lines are ideal for testing large volumes of components, environments where dye penetrant processes are used regularly and in teaching environments.
---
Modular Penetrant Stations
Johnson & Allen Dye Penetrant Inspection Lines are modular in design for easy installation and maintenance but are built to function as a single and complete NDT system. Every customer's requirements vary which is why the modular design ideal; Allowing maximum versatility and scope for the Inspection Line's layout and configuration.
Manual Penetrant Inspection Lines can be simple in design - Sometimes just being one or two adjacent stations to accommodate a wash-drain area. But Penetrant Inspection Lines can consist of a series of wash, drain and transfer stations, drying ovens, storm cabinets and UV inspection booths. Automation can also be included on specific stations such as between the drying oven and storm cabinet or across the entire Penetrant Inspection Line.
---
Layout Configurations
Straight Line
Parallel Straight Lines
U-Shape Line
L-Shape Line
---
Manual, Semi-Automatic & Full-Automatic Penetrant Testing
Using a combination of manual, semi-automatic and full-automatic processes, Johnson & Allen manufacture space efficient and economical Penetrant Inspection Lines according to customer specific requirements. Johnson & Allen believe customers should not have to settle for second-best because of manufacturer inflexibility.
Walk-in and carousel designs are also options for the inspection of large components which can include integrated crane systems and process monitoring.
---
Pre-Cleaning Station
Penetrant testing standards state, "All surfaces to be examined shall be clean, dry, and free of soils, oil, grease, paint and other coatings, corrosion products, scale, smeared metal, welding flux, chemical residues, or any other material that could prevent the penetrant from entering discontinuities, suppress dye performance, or produce unacceptable background."
Penetrant Inspection Lines may thus include a Pre-Clean Station. Typically such a station would consist a stainless steel immersion tank containing an aqueous degreasing fluid. The tank would also normally be heated with a gentle agitation to hasten the cleaning process. Afterwards components are washed using an air-water gun and then either left to dry or placed inside a drying oven.
---
Penetrant Application Station
Penetrant can be applied in a number of ways depending on the component under test. The penetrant is then allowed time to soak into any defects - Sometimes called the dwell time.
Methods of penetrant application include:
Immersion Tanks
Electrostatics
Pressurized Sprayers
Paint Brush
Dip tanks for applying penetrant to larger components can be built around a semi-automatic raise-lower platform. With bespoke stainless steel baskets or jigs available for smaller components. Manual or pneumatically operated cover lids can also be included to prevent contamination of penetrant when not in use.
---
Penetrant Emulsifier Station
Common in Method D post-emulsified processes. Emulsifier Stations are stainless steel immersion tanks where components are immersed in a bath of hydrophilic emulsifier. The emulsifying process works by detergent action and increases the surface tension of oil based penetrants therefore increasing the contact angle, allowing excess penetrant to be removed by water wash.
---
Penetrant Wash Station
Excess penetrant should be removed after sufficient dwell time - Methods A, B and D necessitate a water wash with controlled water pressure and temperature.
Johnson & Allen Penetrant Wash Stations include sloped stainless steel tanks, designed so that waste liquids quickly drain away. Johnson & Allen Wash Stations are usually fitted with calibrated air-water guns which digitally display the water pressure and temperature on the splash back.
Raise-lower and turntables designs are also available for ease of inspection, particularly for larger components.
---
FPI Lines & NADCAP
Fluorescent Penetrant Inspection (FPI) Lines can include bespoke UV Inspection Booths over the Penetrant Wash Station and Inspection Station to reduce ambient light below the 20 Lux demanded by most DPI standards. UV Inspection Booths are normally fitted with both UV lights and white lights to give adequate background UV light when inspecting with the option of white light for safely loading components and maintenance.
UV Inspection Booths are built around a sturdy steel frame and panelled with either a PVC canvas or steel sheet. Most UV Inspection Booths also incorporate a number of fans to remove heat and prevent build-up of chemical vapours within the booth. Component doors are also common and can be either manual or pneumatically operated.
Johnson & Allen design fully bespoke fluorescent penetrant systems for customers on any budget, which can be manufactured to meet all current standards including Rolls Royce and NADCAP (National Aerospace and Defense Contractors Accreditation Program).
---
Drying Oven
For increased throughput Drying Ovens are recommended over air drying procedures. Johnson & Allen Drying Ovens are bespoke built, thermostatically controlled and are designed to recirculate air for improved running efficiency – Giving notable running cost savings in the long run. Our Drying Ovens are stainless steel construction, use quality components and are built to last.
Designs types include:
Top Opening - Doors are fitted with gas struts for assisted lift or pneumatically operated on larger units
Front Loading - Slide doors are counter balanced for ease of use
Tunnel - Doors are pneumatically operated and can include a roller system for loading components
---
Storm Cabinets
Storm Cabinets are the preferred method by which to apply penetrant developer. Johnson & Allen manufacture bespoke programmable Storm Cabinets which feature interlocking cabinet doors and internal heating elements to keep developer powders dry. This guarantees a thin uniform powder coating and allows for the highest level of defect detection.
Johnson & Allen Storm Cabinets are of stainless steel construction and we also offer Storm-Extract-Return functionality so developing powders can be reused - Giving long term cost savings.
Design types include:
Top Opening - Doors are fitted with gas struts for assisted lift or pneumatically operated on larger units
Front Loading - Slide doors are counter balanced for ease of use
Tunnel - Doors are pneumatically operated and can include a roller system for loading components
---
Inspection Station
Critical to the penetrant testing process is the inspection of components and recording of results. Because of components size Inspection Stations frequently feature a turntable so that even the most cumbersome of parts can be easily manipulated and inspected from all angles.
Fluorescent penetrant processes demand a minimum UV surface irradiation with limits on the amount of ambient white light. For this reason UV Inspection Booths are normally included in all Penetrant Inspection Line designs. It is also common to include additional handheld UV Lights on the station for the inspection of complex geometry.
Coordinate Measuring Machines (CMM) are also an option for customer requiring thorough data recording. Typically a CMM would be a probe attached to the Inspection Station by an arm capable of moving in all three axes. The CMM is moved around the component and the location of any component defects can be recorded.
---
Product Data
Fully bespoke system – Any component size or weight
Stainless Steel construction
Dip tanks, pressurized sprayers and electrostatic dye application methods available
Programmable drying ovens - Top opening, front loading and tunnel types
Programmable storm cabinets - Top opening, front loading and tunnel types
Bespoke blackout booths fitted UV and white light sources
Calibrated ovens, water temperature gauges and pressure gauges
Collapsible Stainless Steel baskets for small components
Hand held UV inspection lamps
BSI ISO 9001: 2015 certified company
Safecontactor certified company 
Earn
0
reward points with this purchase
Add This Product To Your Favourites