Hoffmann Penetration Test TAM Panel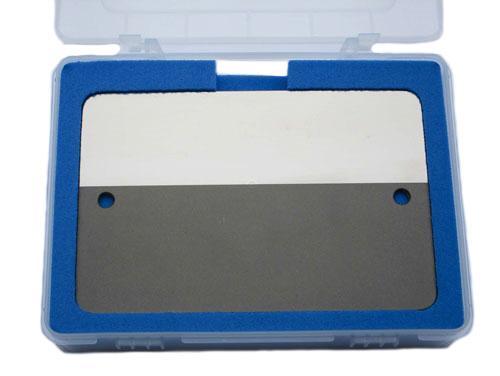 Description
5 Star Penetration test Panel
---
System Performance Check
Penetrant test panels based on the Pratt & Whitney TAM drawing 146040 are one of the most popular industry approved methods of performing system performance checks on DPI systems. In recent years reliable TAM panels have become notoriously difficult to get hold of since one of the few Pratt & Whitney approved manufactures has stopped producing them due to their inability to make consistent panels.
---
Pratt & Whitney Approved (146040)
Hoffmann are a recently Pratt & Whitney approved manufacturer of TAM panels. Made with German precision the Hoffmann TAM panel is a 2.5mm thick stainless steel plate with half the test surface hard coated with a micro thin chrome alloy. The chrome coloured half contains five controlled and evenly spaced cracked centers – With the cracked centers in a circular pattern forming 5 star-like shapes.
The non-coated side is grit blasted to give a roughness (Ra = 2.0) and is for testing the washability* of penetrant and for performing background tests.
*Washability is the visual assessment of excess penetrant removal.
---
Versions Available
Grit Blasted - Has a chrome strip which has been lightly grit blasted in order to dull the surface.
Smooth - The chrome plated strip is not grit blasted.
---
TAM Panel Approvals
The Hoffmann TAM Panel has been approved as a reliable system performance check by the following groups:
| | |
| --- | --- |
| Pratt & Whitney (PW) | ✔ |
| General Electric (GE) | ✔ |
| MTU Maintenance | ✔ |
| Delta Airlines | ✔ |
| Rolls Royce | ✔ |
| Safran/Scnecma | ✔ |
| Senior Aerospace (Thailand) | ✔ |
| PCC Structurals | ✔ |
Earn
0
reward points with this purchase
Add This Product To Your Favourites